Get Organised Client Services provide disability and aged care support workers. Do you need some help with the care of a loved one? Have you just come out of hospital after surgery and need some help getting to appointments, preparing meals, showering, or even staying on top of those household chores? At Get Organised Client Services we provide a range of support services:
Personal Care -showering, toileting, assisting the client with cleaning teeth, brushing hair, getting dressed etc.
Manual handling transfers – for example, from bed to wheelchair
Meal Preparation
Assistance with household duties – making beds, washing the dishes, vacuuming, dusting, mopping floors, washing laundry, etc.
Assisting clients to take their medications. (We cannot administer S4 or S8 drugs as this requires a community nurse or client to administer themselves) We could however help organise a community nurse for the client if they need this.
Transportation to appointments or for community access
When attending medical appointments, we can support the client in the appointment if required and get the doctor the write down the treatment plan on a health sheet so if the client has multiple carers, they are familiar with the client's care needs.
Social and community participation- we can take clients out into the community to be active participates in their local community. This could be going to the movies, for a coffee in a local coffee shop, going shopping, attending a live show etc.
We can run errands for clients. Picking up groceries. Taking items into a dressmaking or shoe repairer for repairs, posting letters, etc.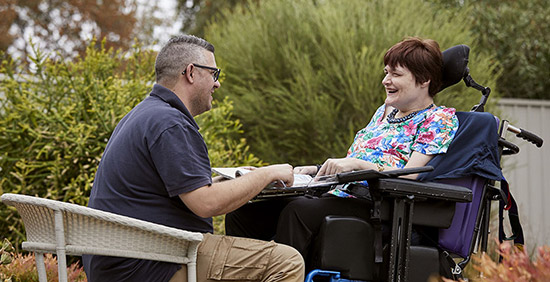 We can support clients when they want to travel for a holiday. Your support worker can go with you on your holiday to ensure your care needs remain the same and are fully supported and able to enjoy your holiday to the fullest.
Assistance with time management and organisation skills. - we can support a client by creating schedules and routines to help the client stay on task. We can also help the client with creating systems that are more time effective and are easy to follow. For example: we could scan paper documents and create folders on a computer to help declutter. Or put out of season clothes into storage tubs and label tubs etc.
Administration tasks – filing, data entry, scanning, transferring photos from cameras to your computer and then work with client to put them into folders, etc .
Companionship- we can keep your loved one company and do activities of choice with them when you are unable to do them due to other commitments. For example: play cards, do some arts and crafts, take them down to the park, walk the dog with them, watch a movie etc.
We run organised group activities or one to one activities- such as making perfume with essential oils, making body butters, bath salts, bath bombs, beeswax wraps, and sugar scrubs.
We can help our clients in booking services, such as organizing a community nurse visit, assisting them to book in their medical appointments and then put them into their diary or schedule. If they need a tradesperson to do some work around the house. We can ring around and get some quotes for them.